Regional Competition Registration is Open!
Sign your team(s) up to compete in this fall's regional Ethics Bowl competitions.
About Ethics Bowl/APPE IEB®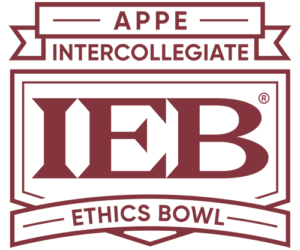 Welcome to the home of the Association for Practical and Professional Ethics Intercollegiate Ethics Bowl®, also known as the APPE IEB®. APPE IEB® is a unique, collaborative experience for undergraduate students that provides valuable educational experience in practical and professional ethics.
Teams spend hours analyzing and preparing for regional and national competitions to see who has thought most deeply and presented their arguments most clearly on cases based on today's most pressing issues. Students develop ethical understanding of complex, ambiguous, and difficult to resolve issues, as well as key virtues associated with democratic deliberation.
Watch a short video about the Intercollegiate Ethics Bowl
Have questions? We want to hear from you. Reach out at contact@appe-ethics.org or 765-658-5015 to get connected with an experienced member of the Ethics Bowl community.
Competition Process
The APPE Intercollegiate Ethics Bowl® is a tiered competition. Each year during the months of November and December, 12 regional competitions take place at various locations throughout the United States. The top scoring 36 teams in those regional ethics bowls qualify to compete in the APPE IEB® National Competition held in the early spring each year in conjunction with the annual APPE International Conference.
In advance of competition, each APPE IEB® team receives a set of cases created to explore a variety of topics within practical and professional ethics. Cases are written by Case Writing Committees and are drawn from areas such as: the classroom (e.g., cheating or plagiarism), personal relationships (e.g., dating or friendship), professional ethics (e.g., engineering, law, medicine), or social and political ethics (e.g., free speech, gun control).
Teams prepare an analysis of each case. During each competition match, a case is selected from the set and a moderator poses questions based on that case. These questions seek to delve deeper into the multiple ethical dimensions of the case. A panel of judges probes the teams for further justifications and evaluates answers. Rating criteria are based on intelligibility, focus on ethically relevant considerations, avoidance of ethical irrelevance, and deliberative thoughtfulness.
Learn more about competition cases, rules, and competition guidelines.
Learn more about the history of the APPE Intercollegiate Ethics Bowl®, including former winners.
Where are Ethics Bowl teams near you?
View this map of the 2022 Regional Participating Teams. Don't see one at your university? You can start one! Learn more about how to start a team.
2023 National Championship
The 27th Annual APPE IEB® National Competition was held in Portland, Oregon, March 2 to 5, 2023.
Congratulations to the 2023 National Competition Champion: U.S. Naval Academy
Coach: Shaun Baker
Team Members: Kyle Beasley, Jackson Hathaway, Olivia Hunt, Tomas Maldonado, Ryan Knight, Eduardo Ramirez, and Washington Ross
National Runner-Up: Tufts University
Coaches: Susan Russinoff, Audrey Ledbetter, Claire Ganiban
Team Members: Alana Cronin, Ezra Kanarick, Anna O'Sullivan, David Whittingham
The final eight teams included:
Rollins College (Quarterfinalist)
Santa Clara University (Semi-Finalist)
Tufts University (Runner-Up)
University of Chicago (Quarterfinalist)
University of Maryland (Semi-Finalist)
United States Naval Academy (Champion)
Utah Valley University (Quarterfinalist)
Virginia Military Institute (Quarterfinalist)
Want to Get Involved?
Sign up to receive Ethics Bowl news and/or to serve as a volunteer at the regional and national competitions.
Are you an Ethics Bowl Alum?
Join the APPE IEB® Alumni Network and stay connected!
Intercollegiate Ethics Bowl, APPE Intercollegiate Ethics Bowl, APPE IEB, and IEB are registered service marks of the Association for Practical and Professional Ethics. These marks cannot be used without the express written permission of APPE.