The Association for Practical and Professional Ethics (APPE) invites individuals from every discipline and profession interested in advancing scholarship, teaching, and a general understanding of applied ethics to submit proposals based on their work to our 33rd Annual APPE International Conference on February 22-25, 2024 in Cincinnati, Ohio. There will be an online-only portion of the conference program on March 29, 2024 to accommodate our members, presenters, and guests who are located across the globe, or who are unable to attend the in-person conference in Cincinnati.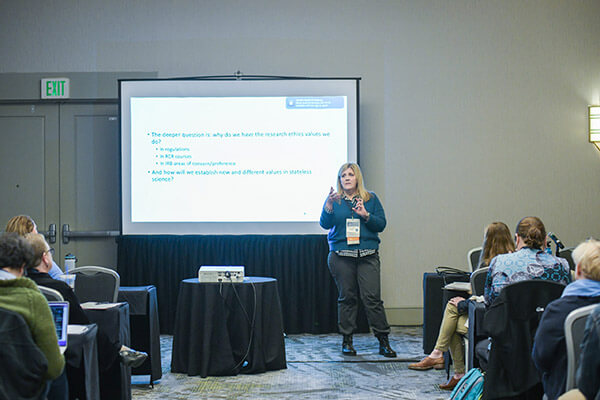 APPE is a multidisciplinary, international organization advancing scholarship, education, and practice in practical and professional ethics. We facilitate and support scholarly and professional collaborations among teachers, scientists, business practitioners, engineers, government officials, researchers, the media, and all professionals concerned with the practical application and communications of ethics and values.
In response to feedback from attendees, APPE especially welcomes submissions with a special focus on Exploring New Directions in Professional and Applied Ethics. We encourage proposals ranging from the more theoretical to case studies and narratives exploring new directions in application. Such proposals might include topics concerning new and emerging technologies, or new approaches and agendas in practical and professional ethics, among others.
All submissions will be completed in Ex Ordo, a conference management software platform, and will be peer reviewed.
Deadline Extension: Submissions are due Monday, October 30, 2023.
Ready to Submit or Start a Proposal?
You can save your progress throughout the process.
Proposals need not be limited to this year's special focus, however.  Submissions in a variety of interest areas, such as these, are welcome:
Agricultural and/or Environmental Ethics
Behavioral Ethics
Bioethics, Health, and Medical Ethics
Business Ethics
Education Ethics
Engineering Ethics
Law and Government Ethics
Military Ethics
Media and Journalism Ethics
Moral Theory
Research Integrity
Science, Technology, and/or Artificial Intelligence Ethics
Social and Societal Ethics
APPE is especially interested in proposals associated with current events and emerging topics, such as, but not limited to:
Cancel culture
Climate change
Dis- and misinformation
Ethics in the economy
Ethics of repair, reparations
Free speech in the academy
LGBTQI+/queer ethics
Military human rights initiatives
Monuments and public honorifics
Obligations to future generations
Parental rights (e.g., in education, medicine)
Political and election ethics
Privacy and social media
Public health and competing economic interests
Systemic bias and social justice
Unhoused/housing insecurity
Please keep in mind that our attendees come from a range of backgrounds and perspectives, so your presentation should be designed to engage our diverse community.
We invite proposals in the following categories:
Individual Presentations
Panel Discussions
Case Studies
Pedagogical Demonstrations
Poster Presentations (in-person only)
Pre-recorded Flash Presentations
Author Meets Critics
Authors Reception (in-person only)
Paper Competitions and Awards (see below for more information)
Submission Notes
Generally, no more than one individual presentation per person will be accepted. Participation in co-authored presentations and panels is limited only by programming space.
Presenters can choose which version of the conference (in-person or virtual) they would like to be considered for (or both). Spots for the virtual component will be limited.
Please read the complete Submission Guidelines & Instructions before submitting.
Paper Competitions and Awards
Best Formal Paper by an Early Career Scholar ($500)
Best Formal Paper by a Graduate Student ($500)
Best Formal Paper by an Undergraduate Student ($250)
Clifford G. Christians Ethics Research Award ($250)
When you're ready, you'll submit your proposal via Ex Ordo, which can be saved and finished at any time.
Interested in Submitting for the APPE RISE Pre-Conference Symposium?
Learn more about the Call for Proposals.