Mission
The Association for Practical and Professional Ethics Research Integrity Scholars and Educators (APPE RISEsm) Consortium promotes education and research on research ethics, research integrity, and the responsible conduct of research. In support of this mission, the APPE RISEsm  Consortium serves as a forum for academics, practitioners, and other stakeholders to share experience, expertise, and scholarship. The Consortium collaborates with external partners on matters pertaining to research ethics pedagogy, research, and policy.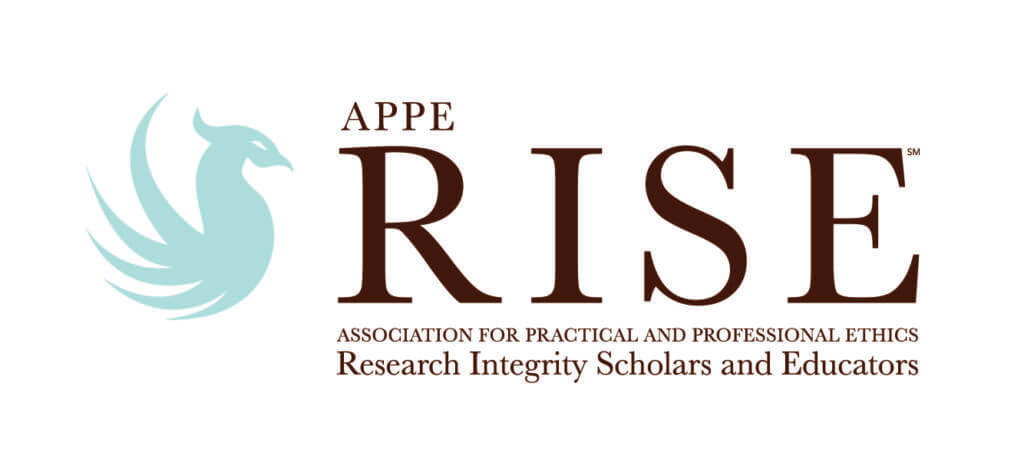 News
Call for Proposals: The 2024 APPE RISEsm Pre-Conference Symposium invites abstracts describing recent research or activities of interest to the research ethics/integrity community. The symposium, titled "Research Ethics and Integrity in a Changing World," will be held on February 22, at the Hilton Cincinnati Netherland Plaza Hotel, in conjuction with the 33rd Annual APPE International Conference.
Get Connected
APPE RISEsm members can connect and share resources via the Member Forum in the Info Hub. Simply go to the Member Login page and look for Forum on the left hand side. You can respond to or create posts for other members to see.
For more information, contact Chair Trisha Phillips (Trisha.Phillips@mail.wvu.edu).
History
The realm of research ethics has a long and complex history involving many different types of disciplines, projects, and organizations across the world. Much of the realm is shaped by historical cases involving human and non-human animals in research.  Yet research ethics is much broader than that, encompassing research practice in any discipline or field.  The responsible conduct of research (RCR), a phrase some use interchangeably with research ethics and/or research integrity and others do not, began to emerge in the late 1980s. Over the latest several decades, the need for RCR education and training has been significantly influenced by policies from the U.S. National Institutes of Health and more recently, from the U.S. National Science Foundation.
For many years, APPE has had a prominent role in being part of the conversation related to research ethics and RCR.  For example, in 2006, the Responsible Conduct of Research Education Committee (RCREC) became formally part of APPE. In later years, the RCREC was rebranded as an APPE Special Interest Section. Among other activities, the Section recruited experts to speak at APPE's annual conferences, discussed latest happenings in research ethics, and created networking opportunities for academics, practitioners, and other interested individuals. In 2019, its name officially changed to the Research Integrity Scholars and Educators (RISE) Consortium.
Current and Past Leadership
2023-current
Chair: Trisha Phillips (West Virginia University)
Outreach Coordinator: Jake Earl (Walter Reed Army Institute of Research)
2021-2023
Chair: Jason Borenstein (Georgia Institute of Technology)
Co-Chair: William Gannon (University of New Mexico)
Outreach Coordinator: Greg Kelly (Johns Hopkins University)
2019-2021*
Chair: William Gannon (University of New Mexico)
Co-Chair: Dena Plemmons (University of California Riverside)
*In 2019, the Research Ethics Special Interest Section within APPE officially became the Research Integrity Scholars and Educators (RISE) Consortium.
2017-2019
Chair: Dena Plemmons (University of California Riverside)
Co-chair: Anita Gordon (University of Northern Iowa)
2016-2017
Chair: Anita Gordon (University of Northern Iowa)